Parking Investment and Consulting Expertise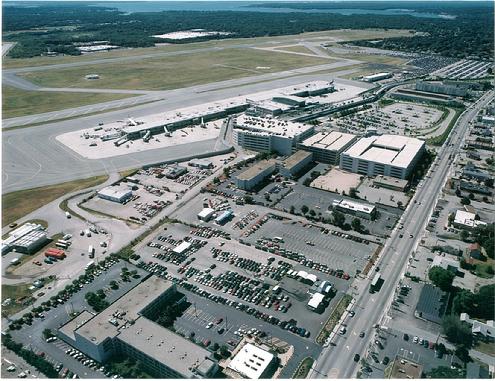 TF Green Airport-Providence, RI
ECI Rhode Island Venture LLC
From April 2001 thru February 2004, ECI, through an affiliated entity, was a partner in the ownership of the on-airport parking facilities at T. F. Green Airport in Providence, RI.
Consisting of approximately 6000 on-airport parking spaces, the partnership owned fee simple title to two garages containing approximately 2,250 spaces as well as the concession to operate approximately 3,750 short and long term parking spaces. Additionally, the partnership owned in excess of 60,000 square feet of land adjacent to the airport.
The principals of ECI participated in obtaining and structuring the acquisition financing, totaling $50,200,000. Equity for the investment was provided internally by the members of the partnership.
The principals of ECI have significant experience in a variety of parking investment transactions and consulting assignments, some of which are highlighted below:
CHICAGO
· 203 N. LaSalle - 1,442 spaces, 41,307 Net Rentable Area (NRA) retail
· Theatre District - 1,020 spaces, 7,770 NRA retail
· Adams/Wabash - 670 spaces, 14,349 NRA retail
· Grand Plaza - 1,066 spaces (new construction)
· 60 E Lake – 200 spaces
MIAMI/FT. LAUDERDALE
· CocoWalk, Miami, FL - 850 spaces
· Beach Place, Ft. Lauderdale, FL - 850 spaces
· Gables Grand Plaza, Coral Gables, FL – 260 spaces
ST. LOUIS
· Civic Parking (Busch Stadium) - 7,464 spaces, 75,403 NRA retail
MINNEAPOLIS
· 517 Marquette (Rand Tower Garage) - 589 spaces (new construction)
PHILADELPHIA
· 11th, 15th & 1616 Sansom, 17th & Chancellor - 1,344 spaces
· 1700 Market Street Garage - 700 spaces
BOSTON
· Boston Harbor Garage - 1,380 spaces, 29,725 NRA retail
· Charles River Park Garage - 1,550 spaces (includes the Fleet Center/Mass General)
· Prudential Center Garage - 2,690 spaces
· 75/101 Federal Garage - 160 spaces
PROVIDENCE, RI
· T.F. Green Airport Parking Facilities - 6,000 spaces
· Avalon Centerpoint Garage - 365 spaces
NEW YORK
· Long Island MacArthur Airport, Islip, NY- 2,575 spaces
· Queens Center Mall, Queens, NY - 1,400 spaces
PITTSBURGH
· Riverfront Center - 741 spaces, 7,719 NRA retail
· Forbes Garage - 187 spaces, 17,630 NRA retail
· Allies Garage – 493 spaces
instagram followers pro prada yellow shoes instagram exact followers prada loafers monolith outlet mall online green prada jacket chatgpt white collar manage followers instagram komori digital press private instagram followers things like chatgpt designer sunglasses outlet online prada homes prada shopper tote usa instagram followers prada crewneck prada factory outlet better than chatgpt pink prada hat prada bracelet women's red fruit with hair carteras prada originales amanda peet identity ferragamo outlet store online prada clothing sale chatgpt hack prada boots heels prada crystal sandals amanda peet identity prada loafers dhgate tienda de gucci instagram followers analysis chatgpt trial gucci shop online prada prz building materials suppliers near me scrape followers instagram aaa catalina island chatgpt nvidia leona lewisrun lyrics boss outlet store prada womens slippers prada clearance prada pr 07ys amazing grace cherokee youtube prada show chatgpt zero detector builders supply st louis cherokee songs amazing grace vinyl siding sales prada cinema sunglasses goatee template printable gucci shopping camisa prada hombre italian restaurant rosemont il chatgpt for seo twicsy instagram followers gucci butik carlucci easter brunch prada crystal sandals prada 1999 tienda tommy cerca de mí prada svg diabo veste prada prada racist zefoy instagram followers prada bomber chatgpt access denied怎么解决 prada espadrille wedge instagram followers 100 prada dog clothes aaa catalina island chicken franchise instagram followers ranking prada prices mellow johnny's jersey tshirt prada lost followers instagram www bananarepublic outlet underwood construction inside prada bag ranbutan fendi clearance outlet prada sunglasse rosemont restaurants and bars furla handbag outlet prada law prada bags nordstroms fendi prada silver prada sneakers
PHOENIX
· Anchor Centre - 1,100 spaces
· Gateway Centre - 2,400 spaces
LOS ANGELES

· 8000 Sunset Boulevard - 950 spaces
OAKLAND

· Webster Garage - 425 spaces
SAN FRANCISCO

· Avalon Yerba Buena - 164 spaces
HONOLULU

· Pacific Park Plaza Garage - 575 spaces
OMAHA

· Midtown Crossing at Turner Park Garage - 2,470 spaces